Wood floor refinishing is like a facelift for an aging hardwood floor.
One of the most beneficial things about having hardwood floors installed is that when they become damaged or you want to change their appearance, all you have to do is schedule wood floor refinishing instead of having the floor replaced. Here at Complete Flooring Works, we have several customers who have gone this route for this reason, along with the fact that hardwood floors are stunning and never go out of style. They also know that when it comes time to give the floors a new look, they can call on us to handle the wood floor refinishing for them. There are five main reasons why you might want to have your hardwood floors sanded and refinished: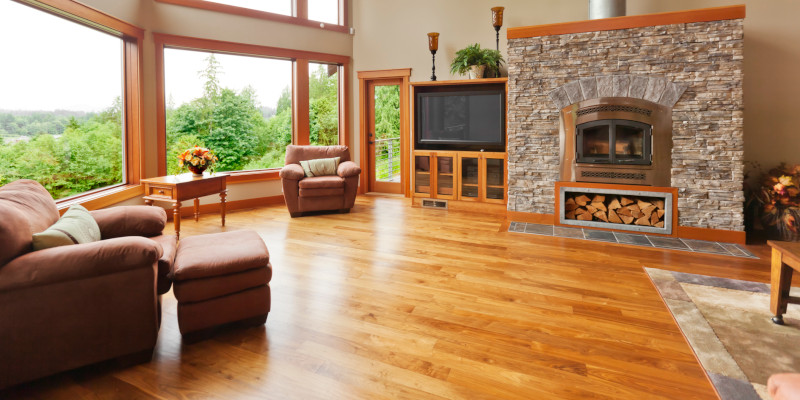 Water or moisture damage
Fading or discoloration from the sun
You don't like the dullness or color
Lots of scratches, dings, and scrapes
Some boards are turning gray or black
You may have other reasons, as well, such as having had hardwood installed in other rooms and you want all the rooms to look the same. Whatever reason you have for wanting wood floor refinishing, call us, and we'll come assess your wood floors to be sure they can withstand sanding and refinishing. Depending on the quality of the hardwood and whether it is engineered or solid, your floors can be refinished anywhere from one or two times to a dozen or more.
If you would like to schedule an appointment at your Raleigh, North Carolina home to learn more about wood floor refinishing or to discuss new flooring, don't hesitate to contact us.
Wood Floor Refinishing FAQs: Your Questions and Answers Here!
Wood floor refinishing is a great way to get some new life out of old wood floors. In addition to getting a new stain or color, wood floor refinishing also gives you the opportunity to address imperfections in your floors, make repairs, add in new flooring or make other changes. Here at Complete Flooring Works, we want to help you make the most out of your wood floor refinishing experience and have added this list of frequently asked questions (FAQs) to help.
How long does wood floor refinishing take?
This will depend on the size, type and repairs that need to be made to your floors! However, the average length of time from start to finish is usually around 3-6 days.
Can I make a dramatic color change?
In most cases, yes! You can go from light to dark or dark to light with most wood floor refinishing projects.
What if I have damage from water stains or pet stains?
These areas will require a bit more work, since these types of stains tend to turn the wood black over time, but they can be repaired, treated or removed and replaced.
When can I walk on the floors again?
Generally, you can walk on your floors after 24-48 hours, but only in socks. Please do not use shoes or go barefoot for a few days.
Does wood floor refinishing make a big mess?
Wood floor refinishing is a process, but it is one well worth the results! We have industrial-grade vacuums that will help with the dust created by the sanding process, but you might find minimal dust around the house after we are done with the process.
How long should we wait to put furniture/rugs back on the floor?
Furniture can be replaced 3-5 days after the refinishing process is complete, but please allow for several weeks (at least 4-5) to pass before replacing any area rugs or carpeting.
We hope these FAQs were helpful for you. If you would like additional information or have questions that were not addressed here, please give us a call today.
---
At Complete Flooring Works, we offer wood floor refinishing services in Raleigh, Durham, Chapel Hill, Cary, Wake Forest, Apex, Pittsboro, Knightdale, Fuquay-Varina, Garner, Clayton, Holly Springs, and Wendell, North Carolina.
 
Similar Services We Offer: