Revitalize your hardwood flooring by letting us refinish your floors.
Hardwood flooring is beautiful and can last for centuries, but it still requires ongoing care and maintenance. Periodically, you need to sand and refinish your floors, but how do you know when it's time to sand them down and refinish them? Here are a few signs that indicate it's time to restore and refurbish your flooring: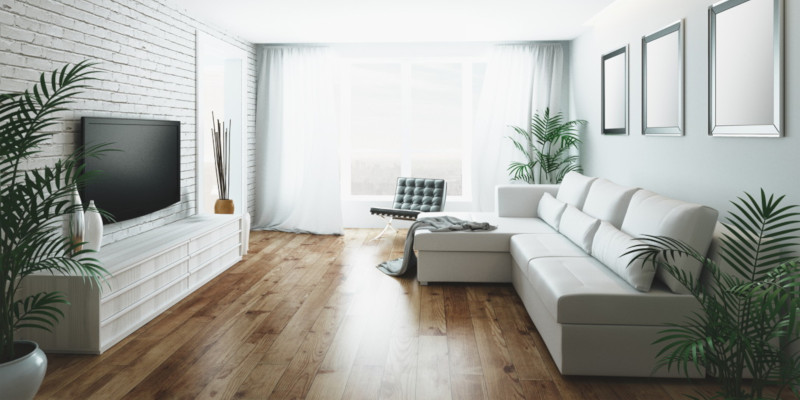 There are lots of scratches on your floors
Some of the flooring boards are turning grey or black
There is evidence of water or moisture damage
Certain areas are faded or discolored from the sun
When it's time for hardwood floor refinishing, the obvious choice to help you with your project is Complete Flooring Works. We're a reputable flooring contractor here in the Raleigh, North Carolina area, and we put in the time and effort to make sure every floor refinishing job boasts perfection.
One of the perks of refinishing your wood floors (besides making them look like new again) is that you can pick out a new stain. Whether you want to go darker, lighter, or somewhere in between, this can help you give your space an entirely new look!
With over two decades of experience in the flooring industry, we know what needs to go into every hardwood floor refinishing project to achieve the best results. We want to tell you more about the refinishing process, what sets us apart, and why we're the right contractor for your hardwood floor refinishing project. Contact us today!
FAQs About Hardwood Floor Refinishing
Hardwood floors can create a timeless look in your home that you'll love for years to come, but that doesn't mean you don't have to maintain them once in a while. After several years, your hardwood floors might show signs of wear and tear. Luckily, hardwood floor refinishing exists to restore the hardwood's appearance. Check out our frequently asked questions about hardwood floor refinishing below.
How long will the new finish last?
The new finish should last for several years in most cases (usually about 7 to 10 years). Once we refinish your floors however, you should remain vigilant by cleaning them with the proper products, equipment, and techniques to ensure your finish lasts as long as possible and to prevent premature refinishing.
How many times can hardwood floors be refinished?
You can get your hardwood floors refinished up to 10 times, generally speaking. However, it really depends on how thick your floorboards are. The thicker they are, the more they can be refinished because there's more wood available that can be sanded down. If the boards are thin, they may not be able to be refinished more than 3 to 4 times.
Does hardwood floor refinishing create a lot of dust?
Yes, sanding down your floors during the refinishing process creates dust, but you can rest assured that we will take the proper precautions to contain this dust and clean it up.
Can engineered hardwood floors be refinished?
Engineered wood has a thin layer of hardwood on top of thick plywood. It's not impossible to refinish engineered hardwood, but it is risky and can only be done a handful of times.