We make installing hardwood floors in your home more than worth the investment.
Nothing replicates the beautiful, classic look of real hardwood flooring. If you are ready to invest in hardwood flooring for your home in Raleigh, North Carolina, you want the installation done right, and you want it done right the first time, with no exceptions. We abide by rigorous standards for hardwood floor installation here at Complete Flooring Works, and we're eager to showcase our quality workmanship to you when we handle the flooring installation process in your home.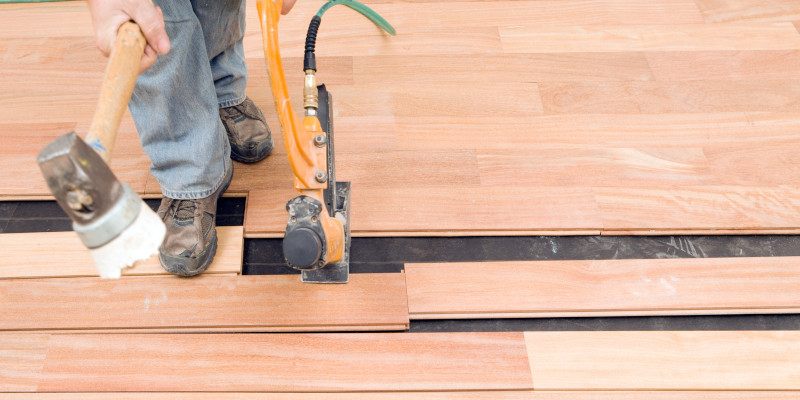 The most intricate and important aspect of hardwood floor installation involves measuring the area correctly and ordering enough material. Order too much, and you elevate the cost of the install. Order too little, and your flooring project gets delayed while a second order is fulfilled. Our expert installers will order just the right amount of flooring based on our precise measurements and make sure it is properly acclimated to the surrounding environment before install to prevent swelling and buckling.
We know our craft, so when it comes time for hardwood floor installation, you don't have to worry about a single thing! We'll help you pick the right type of wood and stain for your floors, and after you're done, you'll be more than happy with the entire experience from beginning to end.
Hardwood floor installation is our specialty, and we are eager to put beautiful wood floors in your home! For a free in-home estimate or to find out more about our hardwood flooring options, give us a call at Complete Flooring Works today.
FAQs About Hardwood Floor Installation
If you have decided it's finally time to upgrade your floors, we would be proud to be the experts you turn to for hardwood floor installation. We have been in this business for years, so we're ready to provide exceptional workmanship and answer your questions. In fact, we'll answer some of them right now. Check out our frequently asked questions below and let us know if you would like more information.
What are some of the benefits of hardwood floor installation?
Many homeowners pay for hardwood floor installation because they love the timeless, classic look of real hardwood in their homes. However, hardwood comes with many more benefits. With proper maintenance and some refinishing, hardwood floors can last up to 100 years, making them an extremely worthwhile investment. They also add value to your home, which is good news if you ever decide to sell. Hardwood is also durable and easy to clean.
Can I install hardwood floors in my kitchen or bathrooms?
Hardwood can be a tricky flooring option for bathrooms and kitchens because the wood can be damaged by excess moisture, but it isn't a strict no-no. If you take every measure to reduce moisture (place bath mats, wipe up water immediately, maintain good ventilation, etc.) hardwood could still work. If you must have hardwood, we recommend engineered rather than solid hardwood. An even better option would be luxury vinyl plank flooring, which looks like hardwood but is waterproof.
After installation, how often will I need to get my hardwood floors refinished?
How often you should refinish hardwood just depends on its condition and thickness, but you probably shouldn't refinish it more frequently than every 7 to 10 years if you want your floors to last.